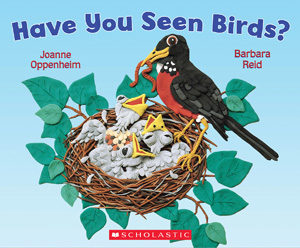 Title: Have You Seen Birds?
Author: Joanne Oppenheim
Illustrator: Barbara Reid
Published: Scholastic, 1986
You guys, I feel kind of silly. I called myself a HUGE picture book fan, but I wasn't familiar with the work of the uber-talented Toronto-based artist, Barbara Reid.
Until I had kids, that is.
Barbara Reid is a phenomenal artist. The first book of hers that we received was Welcome, Baby. We had a book-themed baby shower for Vivi and one of my dear friends gave us a copy. I don't know if it was pregnancy hormones or the fact that the book is just beautifully written and illustrated, but I totally bawled when I read it. And, I'm not ashamed to admit, I still get teary-eyed when I read it now. (Even though my kiddos are 'too old' for board books, there are some that still live on our shelves. And occasionally I force them to listen to them once more. I figure having a mom like me will be character-building in the long run.)
Whenever we see Ms. Reid's books at Chapters or in the Scholastic book order, we make sure to add them to our library. One of Lily's favourites is Have You Seen Birds? It's not new (although it was in a recent book order), but it was new to us. What's it about? Well, in a word: birds.
But in more words, it's about different types of birds, where they live, what they look like, what they eat – useful information like that. And the pictures? Well, they're excellent. Barbara Reid illustrates in plasticine. This gives the illustrations a totally different look than if they were drawn in any other medium. There's a real 3-D quality to every picture, and the details and textures are wonderful.
The story itself is minimal, almost poetic. But it works really well with the pictures, is fun to read aloud and makes for a great pre-bedtime story. Lily can name almost every single species of bird in the book, and has only one criticism to share: "Where's the red-winged-blackbird? He seems to be missing."
(Back story: Lily has a special relationship with a red-winged-blackbird that frequents our bird feeder. His name is Montaboo and she loves him. She was dismayed he didn't make the book.)
Beyond that, however, it's a pretty well perfect picture book. Let's hear it for the birds!
Mama's review: 5/5 delicious worms
Lily's review: "I still love it, even if Monty is missing."